Mariya Morozova is one of the great bikini fitness athletes of Russia that we have had the pleasure to see compete in Spain this season. Mariya got the silver medal at Olympia Marbella  (up to 172 cm) , also she has had other great results winning the bronze medal in the Diamond Cup of Malta and also in the Russian Cup. It's a pleasure to Ten un cuerpo 10 able to interview her and to know a little more about Mariya.
Mariya, first of all thank you for granting us this interview and congratulations on your results this season.
After getting a silver medal in your first international competition at the Olympia in Moscow in late 2016, this season was the first time you competed outside of Russia and the results have been very good. Did you imagine having these results in international competitions?
I hoped that I could be at top 5, but I couldn't imagine that at the first Olympia I had silver medal! It was big surprise for me!
What are your next goals?
My next goal will be at spring season. With my team I going to international competition in Spain of course and I hope I can take gold medals 🙂
Do you have a dream that you would like to fulfill as a competitor?
Yes of course I have! I want to have pro card at the future! And now ifbb federation give me "elite card " and I thinking that this is my chance to make my dream in reality 🙂
We would like to know better the process that has brought you to where you are today. Always has been an active person or sport woman?
I wasn't always Sport girl. At school I hated sport ..and when I was seventeen years I realized that my body will be changed if I couldn't went to the fitness….and now I have seven years training experience and 5 years I'm working fitness Trainer at the best fitness club in my city:)!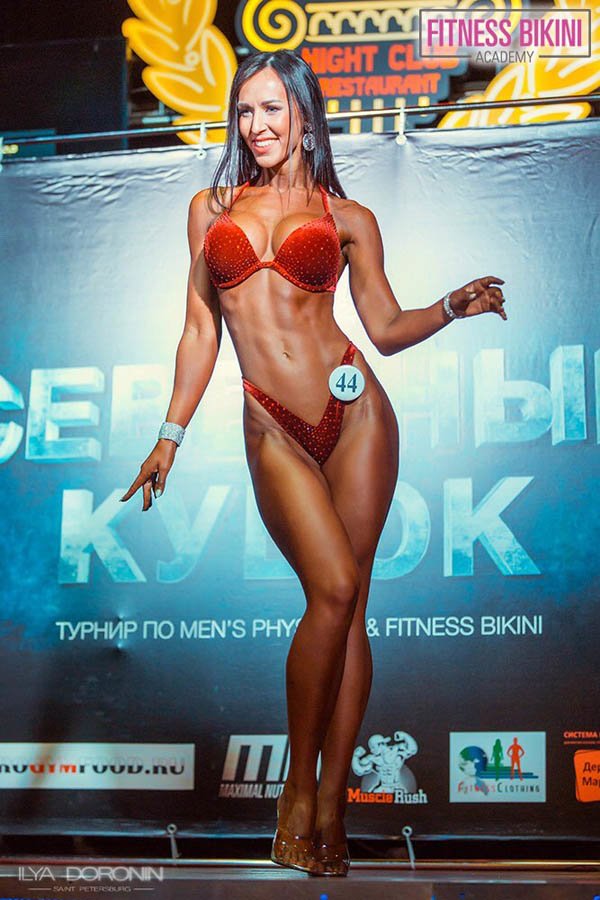 All people have a beginning in our relationship with fitness lifestyle, how did you know this type of training and what was the reason to start weight training?
I am in good shape all year, because I have been working in the gym for 5 years. But one day I had the idea to start training with weights to compete.
Many women are afraid of losing their femininity by training with weights.  You're a personal trainer and surely you have to explain this to your girls. Did you have that fear at some point?
I know how afraid of losing femininity, at my first training year I told the same words my fitness trainer! My girls not afraid because their saw how I look… I don't have big biceps or big muscles;)
Training, diet, personal relationships … Do you think it is easier for you to have this lifestyle because of your profession?
Yes of course for me it is easier that if I work In office for example..))
Do you think that emotional and family stability is important to be able to lead a lifestyle as strict  as this?
Yes of course!
Fitness is difficult to understand for people who don't know it, and some people think that we are just obsessed only by their physique. Have you ever had to experience this misunderstanding in your environment?
Yes!) some people think like that but when knowing me closer realized that it's not true! A have another hobby too!
What made you decide to become a bikini fitness competitor?
Because I wanted to show my shape and it was only for interest to see how it was be fitness bikini 🙂
Do you have athletes from Russia or other countries that you admire or have as reference?
Yes!   Xenia Sheveleva, Davila Fernaanda , Yana Smith Kuznetsova y Ashley Kaltwaser
In Russia there are many and very good bikini athletes. What do you think are the keys to this success?
I think that keys to success is genetics from parents!
What do you like most about your current physique and what do you think you should improve?
I love my stomach and I should improve my legs! Legs should be drier !)
What qualities should have a competitor to stand out in bikini fitness?
Good bikini! Nice makeup! Brilliant smile! The Best I walking!
Mariya thank you very much for your kindness, we hope you enjoyed this interview and wish you the greatest successes in the future.
If you want to add something else…
I waiting good offer with fitness company to working together. Now I don't have fitness sponsors. 🙁
Thanks for interview. I hope we meet in Olympia 2018! 🙂