Lidia Fernández was undoubtedly the true star of the 2019 Spain Cup, held in June in Alcalá de Henares, Madrid, getting the gold in the 3 categories in which she competed, bikini fitness junior, games bikini and bikini fitness senior, where she also achieved overall victory, finishing the championship with 4 gold medals, an unprecedented success and that maybe will mark a before and after in the way of seeing the bikini fitness in Spain.
But Lidia's successful spring season isn't just limited to the Spanish Cup, she has also demonstrated on the international stage her value as an athlete by winning 2 gold medals in the Panatta World Cup in Italy and at the Diamond Cup in Lisbon in Portugal in the first part of the 2019 season.
Today we have the pleasure of being able to talk to Lidia about this great season and get to know her career in the world of fitness a little better. Lidia welcome to TC10, congratulations for this fantastic season and thank you for dedicating part of your time to this interview.
Good morning!
Thank you very much for allowing me to make my point of view known about this sport, how I live it and contribute a little of my little experience.
I want to start by highlighting that you are an athlete still of junior age and that you have achieved several of your triumphs in senior category, something very difficult to see. When last season ended and you sat down to balance everything that had happened, what thoughts and sensations passed through your head?
I'm 23 years old, so it's my last year as a junior competitor, I wanted to make the most of this year and I signed up for all the competitions that allowed me my economy and without harming my studies.
At the end of the season, I sat down with a coffee in front of my boyfriend and trainer, Javier, and we could only smile, we were very very happy.
Everything had gone perfectly, to every competition i presented to myself went with the same enthusiasm and hope of going to the final, and that was reflected in my mood on the platform, I really enjoy when I compete.
It can be said that you are practically at the beginning of your career and you have already achieved goals that many important athletes took years to achieve. Have your future plans and goals changed after these great results?
The goal has not changed, play sport and enjoy competing, at any level, I have many years to reach for me to set specific goals.
The plans have certainly changed, I have set my sights on competitions that I neither posed at the beginning of the year, and that to this day I have a lot of respect, like the Arnold Classic Europe, which I didn't think of being able to compete there for quite a few years.
You always have to level up if the circumstances occur, I like to prove myself.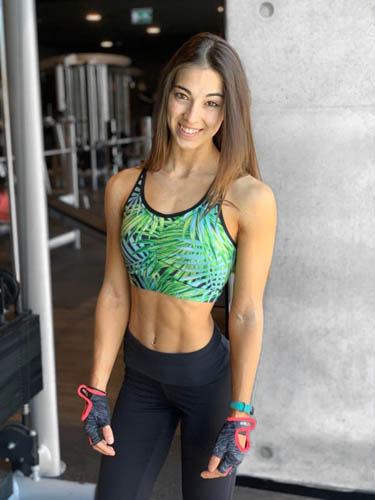 In the Spanish Cup as I said in the introduction of your interview, you have achieved something unprecedented in the bikini category, winning 4 golds, one of them in the new bikini games category. You made it to the cup after several international success. What expectations did you bring to the Spanish Cup knowing that the competitions here are a little different from those of international?
It is true that in Spain the bikini category is treated differently from the international one, I have been checking it for the previous two years. I arrived at the Cup with the same desire as all the competitions, perhaps with a little more since it was the premiere of the bikini games category, and that I was quite excited. It's a category that's going to grow a lot, I'm clear, it has a lot of future and I think it's a success that they've taken it out into competition. The surprise came when I was not only succeeding in Junior, but also in senior, it's something we couldn't even imagine, it's being in a cloud.
Your overall victory in addition to the one achieved in the new bikini games category, are a very clear message to all athletes that to be a great bikini athlete you do not need to use chemistry, you have also competed successfully in international. What are the most important differences you have found between national and international in terms of the development of competitions?
Obviously I am a faithful defender that you do not need the use of chemistry in a category like it is bikini, I will not deny that you have to have the structure, but that only gives it to you genetics.
Basically the differences I found focus on posing, the I walks of the finals in international allow us to show and enjoy the stage, something that does not exist in national, at least in the Cup. The physique they often ask for internationally is also a little far from what is required at the national level, although less so this year, they have come very close to what they would ask for in an international competition.
And what advice would you give to those girls who want to start competing in bikini fitness on the international stage?
Especially try it first in smaller competitions, to see if they really like it.
They prepare the posing, it is counted a lot and it is easy to see who has not trained it, in international compete people of very high level, you always want to stand out, and it's one of the key points.
You have to change the mindset, you are in another country normally, another language, other customs, the rules are the same but you have to be attentive to everything, backstage above all.
We have talked about the present, but to get this there is always a beginning of the story and I am sure that the people who start this always help them a lot. What was the reason you started in weight training and started your relationship with fitness?
All my life I have played sport, I spent 12 years in rescue and lifeguard, and that's what created the constancy. But really when I clicked on the fitness was when I first visited the Arnold Classic, in 2015, really recently. Mand surprised so much some of the bodies I saw there, that totally changed my mindset.
The "if you train with weights, you'll be like a man," after seeing the girls walking and training around the fair, didn't make any sense. I wanted a body like that and I would work to get it, and that's how I started training with weights and looking for a trainer.
And what motivated you to take the step of starting to compete and doing it in the fitness bikini category?
The answer to this question is a little tied to the previous one, I trained and worked hard for quite some time, and when it came time for the competitions, I set out that I would too.
My boyfriend and his sister also compete and we decided to take the step, we encouraged and supported each other throughout the process, sharing it with people always makes it more enjoyable and fun.
The fitness lifestyle is often difficult for people who don't know it to understand, but the younger it is that they practice it. Have you had to fight a lot in your environment with the topic that "being so young you miss a lot of things" because of the discipline involved in this lifestyle?
This lifestyle certainly involves discipline, but I think it's mostly in competition. You can always go with your friends to dinner, go out, go on vacation, you just have other habits, but everything can be adapted, at least it's my point of view. And out of competition I definitely make normal life, I do not miss anything that I would do if it were not bikini fitness, I am fortunate that my environment supports me unconditionally.
Are there athletes who admire or have served as a reference?
Initially, I started in the world of fitness with the aim of having a body similar to that of Ekaterina Shokhina, I admired her. When time has passed, the athletes have changed and my admiration too, I am totally a fan of Yana Kuznetsova, she has a body that seems perfect to me, and some step of her I walk I copied.
Bikini is a fairly subjective category in which the results are very variable and it is difficult to predict the victories, however, if we can recognize when an athlete may be struggling in the finals. What characteristics do you think a bikini athlete must have to be in that TOP athlete group?
Definitely a body in X. Femininity, no extremedryness,  no excessive muscle mass, impeccable posing and you will see that you enjoy what you are doing and presenting is very important. I think that's the basic thing an athlete needs to be in the finals, in the TOP athlete group.
And speaking of you, what do you think you can improve to be an even better athlete in the future?
Uffff, I think that improving everything must always be improved. More specifically maybe posing, learning to walk better in heels, I think that's what I'm doing worst, not obviously counting the muscle quality that I don't have much, because of my young age.
We always talk about diets and workouts to reach the goals, but the day of the competition arrives and there are many more things to prepare such as image, bikini choice, jewelry, staging etc. that everyone learns as they can. How many headaches have you been given to learning these bikini fitness "other parts" and mastering them?
My God, it takes a lot more things than you think, these "other parts" for me are almost worse than diet and training itself.
I've always been a simple girl and the strange thing for me is to put on nails, earrings, make up and have everything under control to the smallest detail, so I guess I always forget something, I'm not the best example for "these parts."
I have allowed myself to advise in all competitions, since I have no idea and the truth is that it costs me a lot this part, I will also have to work it, which I do not yet master it.
There are opposing opinions as to whether or not being competitive is sustainable over time. Do you see a long race as a competitor or don't look so long-term?
I am clear that this is going to be my lifestyle, I like it, I have a good time and it is healthy, possibly from now on it does not compete every year so often, but I do see myself having this lifestyle and maintaining it long term. I'm lucky that I don't have too much difficulty preparing to compete, so I'd say for me it's sustainable in time.
There is a fixed question at the end of each interview, and I think it is always necessary. What is the best that the fitness lifestyle has brought you personally?
This lifestyle has brought me many things, very good, but I definitely stay with one, accept my body and be in harmony with it, understand me and understand what I really want, it makes everything so much easier. Sharing all this with the people I love, seeing them enjoy and get excited about what I do, that's the most beautiful thing.
Lidia, I want to thank you for granting me this interview and letting us know your trajectory a little better. I wish you the greatest successes in the future.
If you want to say something else…
Thank you very much for letting me share how I see the fitness bikini, how I live it and enjoy it.
Enjoy what you do, and if you don't like it, try new things, there's a lot of everything to do, life is to live it and the one who doesn't risk doesn't win.
I want to congratulate TC10 for the great work you do bringing the real part of the bikini closer, it helps a lot of people, so, thank you very much for making it easier to understand this category so complex that not only is it based on workouts and diets, there is much more behind.